Oslo Scottish Country Dance Group
home | blog | calendar | display group | past events | cd list | dance list | links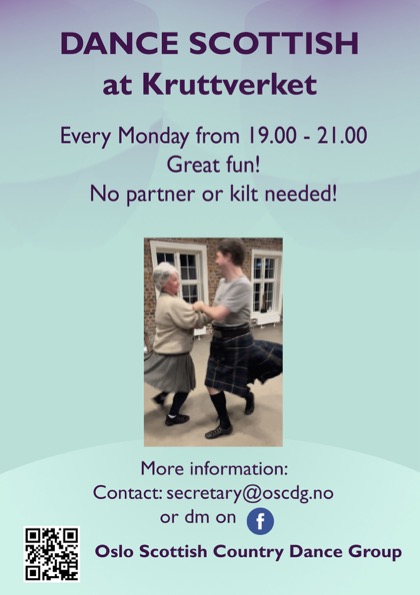 (RSCDS affiliated)
Welcome to our website!
If you don't know anything about Scottish dancing click here to see a few of us in action at one of our Saturday night socials in Central Oslo. Enthusiastic teachers, workshops with invited teachers and musicians, regular social dances and our annual Burns' Supper keep us all on our toes.
Our classes are held on Mondays at 7 p.m at Kroloftet, Arnljot Gellines vei 41, 0657 Oslo. We dance mixed level Scottish country dances until 9 p.m, sometimes later. The entrance fee for members on Monday evenings is kr. 50 (students kr. 25) but your first two evenings are free. The price for non-members is kr. 100. The yearly membership fee is kr. 500 for full membership (students kr. 250) or kr. 100 for social membership.
We also have Saturday Social Dances once a month. The entrance fee for members for our Saturday social dances is kr. 100 (students kr. 50). Have a look at our calender to find the dates.
Dancers - either alone or with friends - are always welcome. Just come along (check the calendar for holiday breaks), or send an email to our secretary or chairman.
What better way to get through the long dark winter nights?
Web design:lns/km